Looking for my article on "The Imperative of a Referendum" regarding electoral reform?
Find it here: https://www.fraserinstitute.org/sites/default/files/the-imperative-of-a-referendum.pdf
My "Why Trudeau Abandonned Electoral Reform" in the Literary Review of Canada (May 2017) is here:
http://reviewcanada.ca/magazine/2017/05/why-trudeau-abandoned-electoral-reform/
My "The Erosion of Canada's Democracy" which appeared in Inside Policy (June 2017) is here:
http://www.macdonaldlaurier.ca/the-erosion-of-canadas-democratic-institutions-patrice-dutil-in-inside-policy/
 Looking for my Op-eds?: patricedutil.com/articles
---
​
Patrice Dutil, Prime Ministerial Power in Canada: Its Origins under Macdonald, Laurier and Borden (University of British Columbia Press, 2017) 
Many Canadians lament that prime ministerial power has become too concentrated since the 1970s. This book contradicts this view by demonstrating how prime ministerial power was centralized from the very beginning of Confederation and that the first three important prime ministers – Macdonald, Laurier, and Borden – channelled that centralizing impulse to adapt to the circumstances they faced. Using a variety of innovative approaches, Patrice Dutil focuses on the managerial philosophies of each of the prime ministers. He shows that by securing a firm grip on the instruments of governance these early first ministers inevitably shaped the administrations they headed, as well as those that followed.​
Patrice Dutil and David MacKenzie, Embattled Nation: The Wartime Election of 1917 in Canada (Dundurn Press, 2017)
Embattled Nation explores the drama of Canada's tumultuous wartime election. Weeks after the Vimy offensive, Prime Minister Sir Robert Borden issued a call for conscription — the forced enrollment of Canada's men for service in the army. Most Liberals, led by Sir Wilfrid Laurier, opposed the measure, while in Quebec, a new movement emerged to fight the government. Borden resorted to unprecedented measures in order to win. Using new sources, this book examines the roots of this divisive election. Everyone had an opinion, and an enduring record of voter turnout was recorded in 1917. My friend David MacKenzie and I chronicle Prime Minister Borden's new Union government and the means by which this new party was able to win the election. This was a nightmare election campaign, with English and French Canada bitterly divided over the question of what Canada's role in the war should be, and, indeed, what Canada's identity should be. The debate of one hundred years ago still resonates today. 
Patrice Dutil and Roger Hall (editors) Sir John A. Macdonald at 200: New Reflections and Legacies (Dundurn, 2014)
This book was published in time for the 200th anniversary of Sir John A.'s birth in January 2015, and listed as one of the "Top 100 Political Books of 2014" in The Hill Times. It is divided into three sections, each featuring a few chapters on diverse aspects of Macdonald's influence: Society, the Economy, Governance and finally Macdonald in Memory. An outstanding cast of scholars from across Canada have contributed essays, complete with an "Afterword" by Macdonald biographer Richard Gwyn:
David Delainey and Herbert Emery on "The National Policy's Impact on the West: A Reassessment"
Michel Ducharme on "Macdonald and the Concept of Liberty"
Patrice Dutil on "Macdonald, his 'Ottawa Men' and the Consolidation of Prime Ministerial Power, 1867-1873"
Patrice Dutil and Sean Conway, "A Legacy Lost: Macdonald in the Memory of his Successors"
Ben Forster on "First Spikes: Railways in Macdonald's Early Political Career"
Colin Grittner on "Macdonald and Women's Enfranchisement"
Elsbeth Heaman on "Macdonald and Fiscal Realpolitik"
Ged Martin on "Understanding Macdonald: Reviewing a Biographical Project"
Barbara Messamore on "Macdonald and the Governors General: The Prime Minister's Use and Abuse of the Crown"
J.R. Miller on "Macdonald as Minister of Indian Affairs: The Shaping of Canadian Indian Policy"
Yves Pelletier on "Politics, Posturing, and Process in Shaping Macdonald's Public Memory (1891-1911)"
Donald B. Smith, "Macdonald's Relationship with Aboriginal Peoples"
Tim Stanley on "Macdonald, Chinese Exclusion, and the Invention of Canadian White Supremacy"
Bill Waiser on "Macdonald's Appetite for Canadian Expansion: Main Course or Leftovers?"
David Wilson on "Macdonald and the Fenians"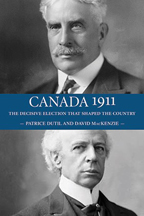 Patrice Dutil and David MacKenzie, Canada, 1911: The Decisive Election that Shaped the Century (Dundurn, 2011)
Canadians have long looked at the 1911 election as an archetype of democratic contests in this country. 1911 brought everything to bear: foreign policy, defence policy, economic policy, personal politics, the rise of nationalism in Quebec, the rise of an imperialistic nationalism in English Canada and, not least, the characters of the two leaders. This book examines each force in a new light. Laurier is portrayed as far more arrogant than he has been in the past. Borden is presented as a leader who used every tool availalbe to defeat the government. The final section presents an finely detailed analysis of how people voted and who exactly changed their minds and cast their vote against Laurier and his ideas on the Canadian Navy and the need for freer trade with the United States.
Canada, 1911 makes a brief appearance in Denis Villeneuve's film Enemy (2013).
Patrice Dutil (editor) The Guardian: Perspectives on the Ministry of Finance of Ontario (University of Toronto Press, 2011) **Finalist for the Queen's Park Speaker's Book Award, 2012**
This is a first on so many levels. Never before has a ministry of finance been so closely examined by such a distinguished group of scholars from across Canada. The Ministry of Finance of Ontario has been, arguably, the most influential department of its sort in any parliamentary system. The contributors to this book explain how. Using a wide assortment of methods, chapters examine historical characters, trends in budgeting, expenditure patterns, rhetoric, and structures. The org-charts presented in the second chapter can be found in the "Skunkworks" section.
Patrice Dutil, Cosmo Howard, John Langford and Jeffrey Roy, The Service State: Rhetoric, Reality and Promise (University of Ottawa Press, 2010)
This book presents an entirely new concept that so far has eluded the theories of the neoliberal state and the impact of the New Public Management. Canadian governments have, over the last twenty years, made signficant improvements to their quality of services. There is a lot of self-congratulating going on, and a lot of it is deserved. BUT, we argue that the thinking has stalled and in some areas has taken a step backward. Looking at all sorts of aspects of the service state, such as measurement, web 2. 0 technology, human resources and vision, we made a determined effort to point to new ways. What a blast it was to work with these musketeers!  
Patrice Dutil (Editor) Searching for Leadership: Secretaries to Cabinet in Canada (University of Toronto Press, 2009)
There are very few books on leadership in Canada, fewer still on leadership in the public sector and, until this one came along, none on the most power public servant of all, the Secretary to Cabinet. This book brings together scholars who examine the structures, assumptions and forces that give this position vitality. Three essays focus on particular secretaries to cabinet who had a transformative impact on their governments. The common view is that Secretaries to Cabinet are powerful, influential and vital to the success of government is beyond a doubt, but this book casts some doubt. 
Patrice Dutil, Devil's Advocate: Godfroy Langlois and the Politics of Liberal Progressivism in Laurier's Quebec (Davies, 1994) Amazon.com e-pub.
It has long been assumed that the progressive impulse in Quebec politics had lost its way from the time of the Rouges in the mid-to-late nineteenth century until the Quiet Revolution of the 1960s. This book argues that this image is false and documents a vibrant strain of progressivism that evolved in Montreal from the 1890s until the First World War, and then beyond. Focused on the life and work of Godfroy Langlois, a Montreal journalist and parliamentarian, and his friends, this book fills an important gap in the understanding of the evolution of political thought in Quebec. This book has long been out of print, but is now available as an epub through www.amazon.com in both the English and French versions.
Patrice Dutil, L'Avocat du Diable: Godfroy Langlois et la politique du liberalism progressiste au Québec (Editions RD, 1997) Disponible sur Amazon.com en format e-pub. 
Il a longtemps été supposé que l'impulsion progressive dans la vie politique du Québec avait perdu son chemin avec la disparition des Rouges à la fin du XIXe siècle jusqu'à la Révolution tranquille des années 1960. Ce livre soutient que cette image est fausse et documente une souche vivante de progressisme qui a évolué à Montréal à partir des années 1890 jusqu'à la Première Guerre mondiale, puis au-delà. Centré sur la vie et l'œuvre de Godfroy Langlois, un journaliste et parlementaire de Montréal, et ses amis, ce livre comble une lacune importante dans la compréhension de l'évolution de la pensée politique au Québec. Ce livre a longtemps été épuisé, mais est maintenant disponible en format epub en francais chez www.amazon.ca.  Il est aussi disponible en anglais.
​
Michael McConkey and Patrice Dutil (eds.) Dreaming of the Regulatory Village; Speaking of the Regulatory State (Institute of Public Administration of Canada, 2005)
This book (164 pp) examines the latest thinking on regulatory policy from Europe, the United States and Canada.
Patrice Dutil and Michael McConkey, "Dissecting Discourses of 21st Century Regulatory Governance"
David Levi-Faur, "The Diffusion of Regulation and Diffusion of Capitalism" 
William F. Pedersen, "Regulatory Reform and Government Management"
Fiona Haines, "Criminalization, Meta-Regulation and Competing Risks: How dreams become nightmares"
Stuart W. Shulman, "Wither Deliberation? Mass e-Mail Campaigns and U.S. Regulatory Rulemaking"
Frans Van Waarden, "Less Rules, More Markets? More Markets, Less Rules?"
Steve Tombs, "Regulating Safety at Work: "What Works?"
Douglas Macdonald, "Compliance or Policy Intervention? The response of industry to environmental regulation"
Jerrold Oppenheim and Theo MacGregor, "Democracy and Regulation"
Jefferson B. Hill, "How Have Countries Accomplished Effective Regulatory Reform?"
Bettina Lange, "Researching Discourse and Behaviour as Elements of Regulatory Law in Action"
Liora Salter, "Speaking of Regulation: Three Debates"
Colin Scott, "Regulatory Fragmentation"
Available directly from the website of the Institute of Public Adminstration of Canada: https://ipac.ca/ecommerce/uploads/NewDirections18-2006.pdf